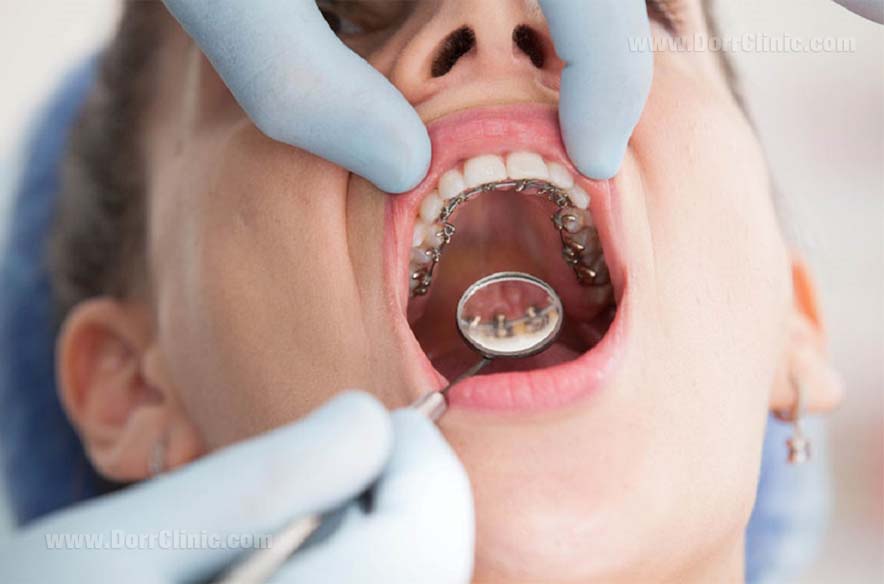 Today, orthodontic treatments are very different than what most people have considered in last years. While the traditional brace is more common but there are many other options for patients. Lingual appliance is one option that attached back of the teeth on the contrary fixed appliance that install front of teeth; lingual brace is less visible.
Lingual appliance is a type of fixed brace, brackets and even elastic orthodontic that attached back of the teeth, is a very good option for patients who don't want people to know they are wearing appliance. If you are a teenager who are worry about your friend's judgment or if you are an adult that your appearance is very important in your work place, lingual appliance is the best choice to have beautiful teeth.
The fitting process of lingual appliance
The first step of lingual appliance procedure is taking an impression of the teeth. Then your doctor will send it to the dental lab to build customized brackets. Building brackets may take 6 weeks and after that your doctor will fix braces with a special method.
Lingual appliance same as traditional brace gently move teeth to their proper position with a continues pressure.  The duration of treatment may last from 18 to 36 months depending on the severity of individual's crowded teeth or their bite.
Is it difficult to fit lingual appliance?
Most people think fitting orthodontic back of the teeth is very difficult task but specialist orthodontists are trained to install lingual and the other type of orthodontics with the most modern and best method. Lingual appliance can perform just in two sessions.
advantages
We should mention that lingual braces are very discreet. We can't say they are invisible but we can say they are very difficult to notice; they are the best option. Some patients are acclaimed that until end of the treatment period, none of their friends or colleagues don't realize they wear lingual appliance.
They can be fixed in their position within the treatment period because they are not removable. It means appliance always are straightening teeth and no need to take them out while eating or drinking as the clear removable appliance. Lingual appliance can solve many problems such as: severely disorganized teeth, teeth spacing and teeth that don't bite together properly. Although we can't say they are not proper for small and simple problems. There is also another type of lingual appliance called Incognito which are specifically designed for front teeth.
Sometimes, using dark foods and drinks can stain their teeth but it won't be considered as a big problem until removing appliance from back of the teeth and reminding stain on the teeth (these points don't get dark because of braces). After brace are removed, the remind stain are different with darken points. Also improper oral hygiene during the treatment may lead to decalcification and creating white spots. Anyway, if it happens, they are not visible because they are hidden behind the teeth.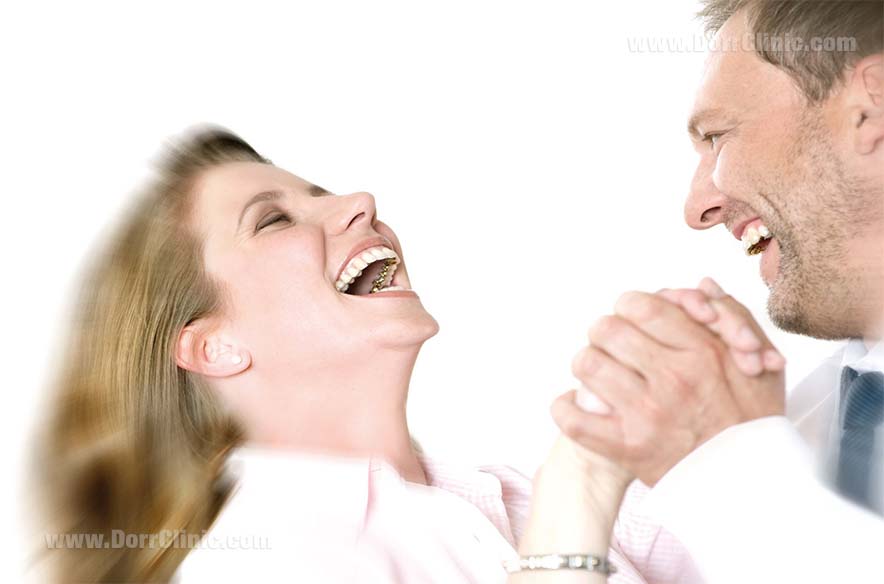 Disadvantages
Lingual appliance is more expensive than traditional appliances and clear aligners because they are custom made or are made of gold (Incognito appliance). Fixing lingual appliance also needs some technicians who have participated in the training to learn lingual brace instalment. Since the lingual appliance are not available as traditional braces, the instalment session may take longer.
Some ones may think fixing appliance is an advantages while others may consider it as a big disadvantage. Removable appliance can be taken out for eating food and you can eat any kind of food during the treatment period. But with lingual appliance you should avoid eating hard, chewing and crispy foods and any things that causes to dislodge braces. If you lose your custom made appliance you should wait for preparing a new one that extend the treatment period.
There is not much space behind teeth, so lingual appliance can be noticed even they had been designed very good. During the first weeks after instalment you may have some pain and some part of appliance may annoy your tongues, but don't worry it will heal day by day. Your doctor may also provide you a special wax to rub on any sharp point of braces that annoy you.
After fitting lingual appliance, you may develop a lisp. This problem will remove after few days with continues speaking and your doctor can advise you some effective recommendation. As much as you speak, this problem will remove sooner.
Does lingual appliance affect an individual lifestyle?
People who wants to have lingual appliance should speak with their doctor about the changes in their lifestyle after wearing brace. Many people need time to adjust talking and eating while wearing lingual appliance.
Eating: although after adjusting lingual appliance, patient can eat normally but they should avoid eating foods such as hard candies, chewing gum and carbonated drinks that damage appliance.
Speaking: Lingual appliance can develop lingual problems such as lisping, and inability to pronounce some words. Although most people quickly used to these braces and their lingual problems will remove.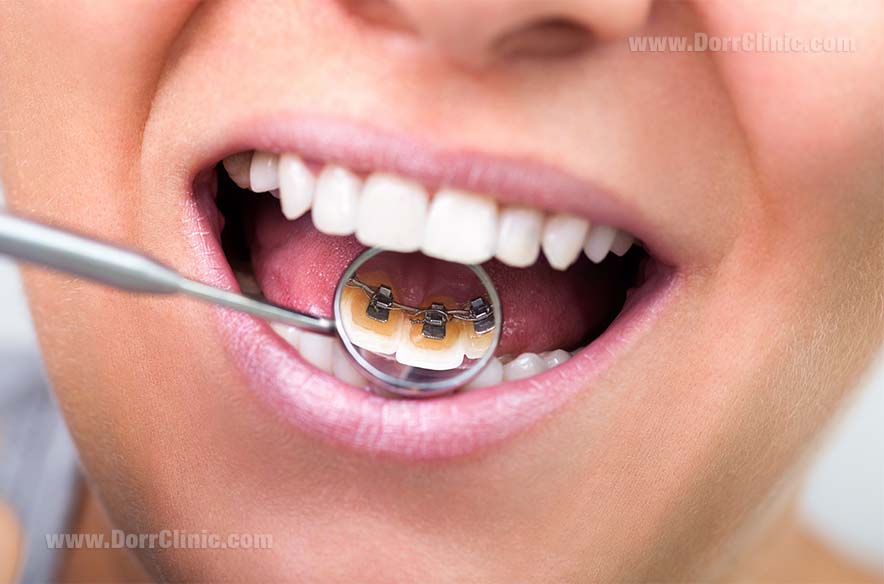 Care of lingual appliance
Same as any other appliance, observing oral hygiene is necessary to prevent gingivitis and tooth decay. Observing oral hygiene including:
Brushing teeth twice a day lasting at least 2 minutes
Using round-bristle toothbrush for cleaning teeth at the gum line
Daily flossing or interproximal brush to remove plaque substance as well as food debris between the teeth. (read more about: What causes plaques build up on teeth and tooth scaling)
Using oral irrigation device (water jet) to remove food debris around orthodontic brace.
Rinsing with fluoride to enhance the teeth.