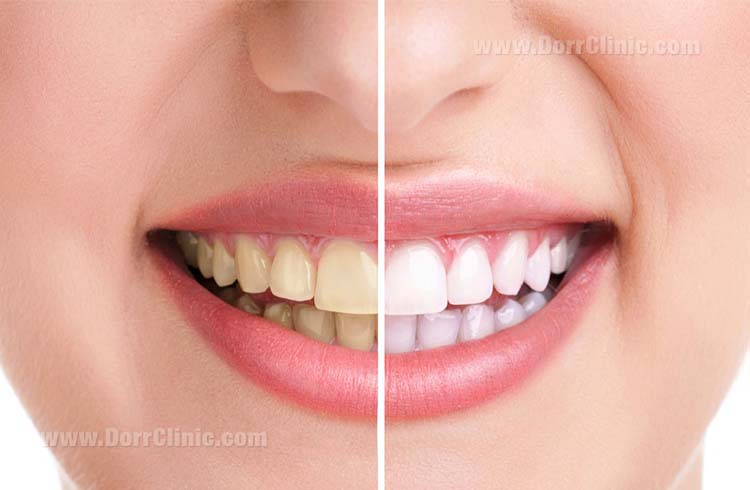 Tooth bleaching (called tooth bleaching when utilizing bleach. Bleach is a whitening material) is a method that remove the yellow and discolored stains or brighten teeth beyond the natural color.
Tooth bleaching options:
In office tooth bleaching
At home tooth bleaching
Combination of one or two sessions of both above methods
The tooth whitening method would be determined in the checkup session, based on severity of the stain and its type.
In all three methods, use of hydrogen peroxide-based whitening products. At-home bleaching method contain from 3%-15% hydrogen peroxide while this rate for in office tooth whitening system is 15%-40 %.
Different products by various percentage of effective materials are available for all above mentioned method.
Each material's usage time and its mood of action is different that prescribe base on the conditions. Keeping the materials on longer or shorter time, would not lead to the better result and may causes much tooth sensitivity.
Each type has its advantage and disadvantages. You should to consult with your dentist before you do at-home bleaching method. This method is not recommended for everybody. Proclaim covers or composites veneers, which looks more to natural tooth color, are not subjects for whitening procedure.
In office tooth bleaching
In-office bleaching method, can get teeth brighter faster. The whitening solutions which use in office are stronger than home kits. More addition, light, heat or combination of both may increase the speed and intensify the whitening procedure.
At home tooth bleaching


There are different methods for at-home bleaching procedure, that the most common ways are:
Tooth whitening strips and gels. Put on teeth by toothbrush or thin strips. These hydrogen peroxide-based whitening products should be applied twice a day for 10-14 days and the result last at least 4 months.
Tooth whitening toothpastes. since they are softly abrasive, any other toothpastes have the same effect and help to remove the tooth stain. However, whitening toothpaste contain of chemical materials and polishing agents which can remove stains without use of bleaching materials. Tooth whitening toothpastes are relatively cheap and brighten teeth about one shade. Some whitening toothpastes contain of peroxides but they don't have much effect because don't place on tooth long enough.
Tooth whitening molds. In this method a mouth guard-like tray which filled up by peroxide base gels would be applied on teeth for several hours a day for about four-weeks. You can buy these whitening molds nonprescription from pharmacy or ask your dentist to make a custom-fitted molds for you.